Mr. Suh's teacher was Park, Chull-hee the man in the center of the photo below. To the right of Mr. Park is Grandmaster Kim Soo a friend and training partner of Mr. Suh back in Korea. They were part of the body guard team together. Grandmaster Kim Soo continues to teach in Texas, Chayon-ryu style — developed from Kang Duk Won, our core style. Kang Duk Won has both Kung Fu forms and Karate-do forms. The original head of our system was Grandmaster Yoon (Korean) who was born in China (or moved there at a very young age) and trained Ch'uan Fa skills. He brought those to Korea after WWII when he opened his original school of Kwon Bup (Ch'uan Fa). Chang Kwon (Jang Kwon) and Palgi Kwon are two of the Chinese forms that he included in this system. We have those today. They are Chinese Kung Fu style forms.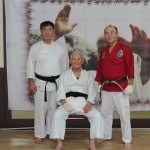 Grandmaster Park is alive today and teaching. Mr. Kim Soo has remained in close contact with him throughout his career in martial arts.
www.kungfukarate.com
Please visit out website here to get all the details on our class schedule.